A Ganja-themed vacation? No, you're not high. Cannabis tourism is on the rise
By StoryStudio
February 22, 2023

10:39 am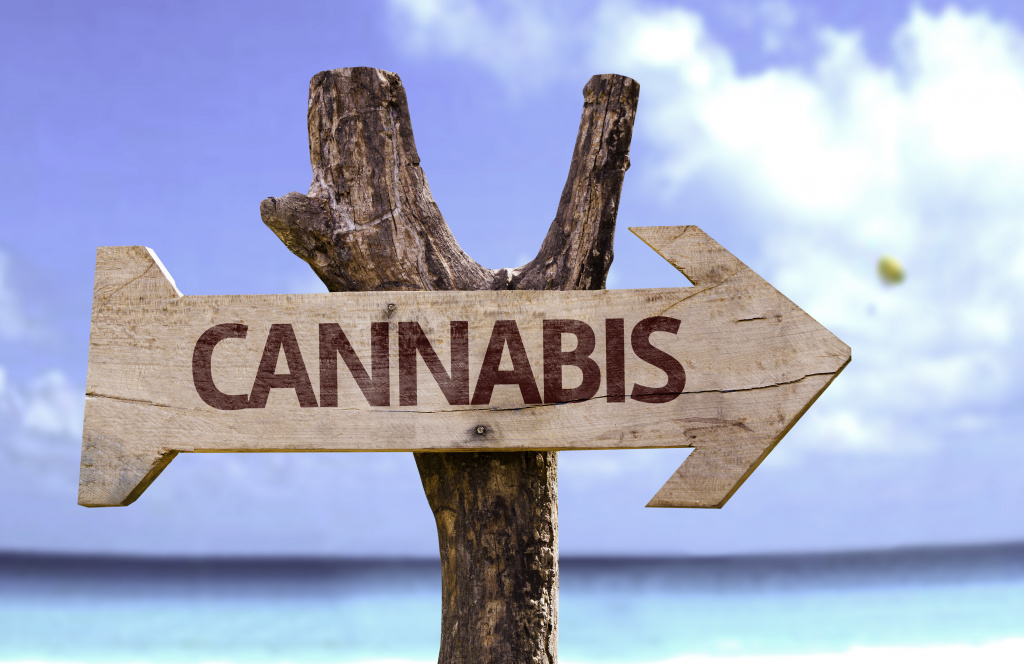 As cannabis grows in popularity – and legality – across the country, many vacationers are looking for a way to combine their wanderlust with their love of herb. And while the logistics of a vacay that's high on grass and low on stress may seem difficult to pin down, there is one place offering a cannabis-friendly getaway experience start-to-finish: GanjaVacations.
GanjaVacations is the world's first cannabis travel services company to curate cannabis-centric vacations in the mecca of the marijuana world: Jamaica. Jamaica is an ideal place to chill out, feel the sand between your toes, eat some delicious food, and enjoy some truly righteous legal cannabis.
"Yes, marijuana-themed vacations are a thing," laughs Norman L. Lawrence Jr., Founder & CEO of GanjaVacations. It's a question Lawrence, who spent years in finance, fields often, noting that many people assume the very idea of a cannabis getaway must be verboten. In fact, tourism is believed by many experts to be the next big thing in cannabis, with Forbes already estimating the industry's value at $17 billion annually. Says Lawrence, "As adult-use legislation percolates across the country and legal cannabis becomes more ubiquitous, it is logical to expect that enthusiastic vacationers will begin to seek out accommodations and destinations where it is legal and available. Surveys show that this is already happening."
Jamaica has long been a tropical destination of choice for people across the U.S. Sandy beaches. Lazy lagoons. Friendly locals. Incredible food. Now add in GanjaVacations' curated list of accommodations and activities, all of which are cannabis-friendly. What's not to love? Ganja-friendly resorts, great 420 deals, health and wellness spas, dispensaries, Rasta tours and events, and plenty of the freshest, all-natural grass enjoyed by Rasta locals – GanjaVacations is your all-in-one plan for the ultimate vacation highlighting a lifestyle synonymous with laid-back living.
"All our accommodations are guaranteed to be cannabis-friendly and safe," says Lawrence. GanjaVacations has an impeccable reputation providing tourists with a memorable, relaxing experience. Whether your ganja vacation interests are recreational, cultural, culinary, or health-related, GanjaVacations has you covered.
At GanjaVacations, you choose from a variety of quaint boutique resorts and B&Bs that few foreign tourists will find on their own. Through GanjaVacations, tourists can celebrate Rastafarian practices and other Jamaican cultural experiences through intimate, one-of-a-kind experiences like a visit to Jamaica's famed herb houses. An herb house is the Jamaican name for a cannabis dispensary, a nod to Rastafarians who have traditionally called it "di erb." Part medical clinic, part coffee shop, part hipster boutique, most herb houses are very different from American dispensaries, reflecting the sacred place marijuana enjoys in Jamaican culture. Almost all have smoking rooms for customers to linger and consume, so a trip to the herb house is an experience in and of itself.
GanjaVacations offers several customizable packaged deals that can include everything – local transportation, accommodations, meals, tours – easily satisfying every interest in your group.
A sample itinerary from GanjaVacations might include:
A visit to an herb house minutes after exiting the airport for a first taste of Jamaican ganja – which Lawrence notes may not be necessary if the driver has some waiting in the car!
Start sampling on your ride along the coast road to the resort, where you can look forward to the welcome gift of even more ganja. Some packages promise a certain daily supply of ganja.
Once you arrive, acclimate by the pool or on the beach, spliff in one hand and a cold Red Stripe in the other.
On your first night, an elegant, romantic dinner alfresco under the stars with your boo awaits, complete with cannabis-infused cuisine.
Next morning, go up into the hills with a Rastaman to tour his farm, sample his product, and learn about his strains and methods. The morning ends with a late lunch of curried goat at a roadside joint on your way back to the resort.
A relaxing day (or two) touring one of Jamaica's many beautiful waterfalls or floating down one of its rivers on a bamboo raft. A joint is never far away. (While smoking in public is not technically legal, no one will complain or even care.)
A day in a Rastafarian camp learning about their practices, getting acquainted with the steam chalice, and enjoying an Ital lunch – the classic vegan cuisine of the Rastafarian.
A final restful day by the pool or the beach, culminating with a night out at a reggae club.
This dream ganja vacation may have you ready to pack your bags if not for one lingering question: is this, you know, legal? The short answer is yes. While only medical marijuana is legal in Jamaica, any person over the age of 18 can get a medical card. Even foreigners can purchase cannabis legally with a card from their home state or get one locally from an herb house within a few minutes. It's legal for any adult to possess up to two ounces, and violation of the law is not a big deal, attracting only a very small fine, and is not a criminal offense.
If you're ready to investigate your perfect cannabis trip, browsing deals on GanjaVacations.net uncovers some truly unique packages. The Jamfusion package at the Germaican Hostel is for the serious cannabis-loving couple who desire an intense Jamaican ganja experience. You'll spend your days and nights lounging with other like-minded cannabis connoisseurs by beautiful bodies of water at one of the most laid-back places on earth, complete with your own laid-back cottage on a very laid-back island.
Or try the special 420 offer – four days and nights at Hot Box, an intimate 420 getaway on Jamaica's fabulous North Coast, just outside the popular resort town of Ocho Rios. You and up to five of your besties will have the legendary bud and breakfast all to yourselves to toke to your heart's content and roam the property's 100+ riverfront acres. There's no better, higher antidote for the winter blues than a few days with friends, nature, and the best bud around.
For those looking to blend health and wellness with their herb, there's the Go Natural: Sun Is Shining, Weather Is Sweet package. Immerse yourself in the warm sun by the soothing Caribbean as you practice yoga, meditate, read in a hammock, sunbathe, or nap in a daybed. Couples can spend their nights sitting around the fire or moving to the reggae beat. Throughout your experience, enjoy canna-infused food and drink.
Special consultations are additionally available for those looking for a travel plan tailored to their specific interests, trip time frame, and more. Jamaica's experiences differ depending on location and season, so working with a knowledgable source takes away the stress and brings the relaxation long before you arrive at your ganja getaway.
There are plenty of packages to choose from but only one place to find them. For a limited time, lovebirds are able to unlock a special Couples Offer — 25% off the second guest's trip when booked together using code GREENSTATE (valid through May 15). GanjaVacations offers new deals every month so you can save when it comes to your canna-cruise. Relax, light a jay, and let GanjaVacations take care of the rest. Visit www.ganjavacations.net and start planning your ultimate ganja getaway. 4/20 is fast approaching, so start your journey today!